A bird feeder put in the garden or backyard to attract the wild bird. It is a great way to enjoy wildlife without leaving your home. You can view those birds personally and get an invaluable experience for the whole family. So, if you live in the area that has many birds, you can try best squirrel proof bird feeder and get the friendly natural atmosphere.
It is very frustrating when squirrel raids your bird feeder, and often make the beautiful bird away. The squirrel will dominate and do not share the feeder with other visitors. And then the food quickly becomes empty, and the bird does not get a bite.
Squirrel Resistant Bird Seed
Some bird food keeps the squirrel away from it. So the choice will make bird food still there for the birds around your area. Below a few type that squirrel does not like to eat :
Safflower Seeds: high in protein and fat. The squirrel typically finds this seed bitter and keep away from that. Still, attract some birds such as cardinals and chickadees.
Niger Seeds: it is oily and makes it as a great energy resource for the bird. Only purchased in quantity for a month or two, do not buy too much. It will dry out over time and lose the attractiveness to the bird. Usually, squirrels leave this seed alone.
Hot Pepper in bird food: it will not harm the bird, and they will not react because the bird not affected by spicy flavor. But it is an excellent way to keep squirrel away. When the squirrel eats, it will irritate the mouth and prevent them from eating more.
Pennington Premium Safflower SeedCheck It Out
Cole's NI10 10 Pound Niger SeedCheck It Out
Wagner's 62051 Nyjer Seed Bird FoodCheck It Out
Best Squirrel Proof Bird Feeder
Now, let's take a look at some products that will protect bird food from squirrels.
Brome 1057: Cardinal Bird Feeder Squirrel Proof
Brome 1057 Squirrel Buster Standard 5Check It Out
This feeder has a unique design that prevents the squirrel to take seed from the container. Its weight will give pressure to the shroud, and the seed port will close. The squirrel can only hang without getting anything. You can also set the adjustable ring to give access to the specific bird. So it will protect from large birds as well. With flexible settings, you can choose to grant access to seed based on the weight of the next bird.
For cardinals enthusiasts, this solution is perfect. Equipped with a perch ring explicitly designed for cardinals, make it easy and comfortable to eat the seed. As well known, cardinal tends to hold the perch and face the food. This bird almost never faces the other way while eating.
Another advantage is the unique ventilation system design, which allows hot and humid air to flow through the vents at the top. And then more fresh and clean air will flow through the feeder. This mechanism will keep the seeds fresh and more birds coming.
Woodlink 7536 – Best Rated Squirrel Resistant Bird Feeder
Woodlink Absolute II Squirrel Resistant Bird FeederCheck It Out
This Woodlink product has a classic model, made using high-quality steel materials. Squirrels that stop by will not be able to chew it. Weight selection mechanism allows the selection of birds to be fed by weight. There are three options: light, medium and heavy. Squirrels that touch the perch will trigger the metal shield to close the seed tray. Similarly birds with a weight that exceeds the threshold.
Two perches are available on the opposite side of this bird feeder. With these two positions will attract many birds to come, sometimes even up to 10 birds. For installation, it allows two options that are hung using a zinc plated hanger or mounted on a pole mount. For installation with pole mount is equipped with rust-free ground socket made of high-quality plastic.It is handy where there are no hangers when you install it in the middle of a large area.
The available container feed is also large enough that can hold up to 12 lbs seed. No need to refill it often. There is also a seed level indicator that shows the amount of food left.
Perky-Pet Squirrel Be Gone II – Effortless Bird Feeder
Perky-Pet 339 – An Attractive Red FeederCheck It Out
This feeder with a striking red color is beautiful once installed in the garden which has a green color in the grass, plants, and trees. Proven to attract all types of birds such as cardinals, jays, juncos, finches, grackles, flickers and kinglets.
Perky-pet uses the same mechanism to prevent squirrel picking the seed. It is using a weight activated bar that will close the seed port when approached by a squirrel or bird with a load exceeding the limit.
This innovative feeder has a capacity of 8 lbs for mixed seeds consisting of black oil sunflower, hulled sunflower, or safflower seed. Metal roofs are easily opened for adding food. After filling it with seeds, like the previous type you can hang it or be fitted with a pole.
Very attractive with the most affordable price among others, but still provide added value for customers.
Wild Bill's Anti Squirrel 8 Station Feeder
Wild Bill's Anti Squirrel 8 Station FeederCheck It Out
This product uses different methods to keep the squirrel away from the feeder. Using a small electric current that gives the squirrel a shock so it will go away. You do not have to worry this shock will harm the squirrel, it will not hurt just make squirrel startled and leave. Only sourced from the 9V battery so practically no harm at all.
This shock method will not affect birds, only working on squirrels. There is a technical explanation about this because as we know, even birds can sit on high voltage power cables without experiencing shock.
Overall for all feeders above, this type has the highest price. But you will most likely be satisfied with its performance in driving out the squirrel. Of course, if you do not mind to replace the 9V battery at least every 5-6 months.
The video below illustrates how the electric shock system works.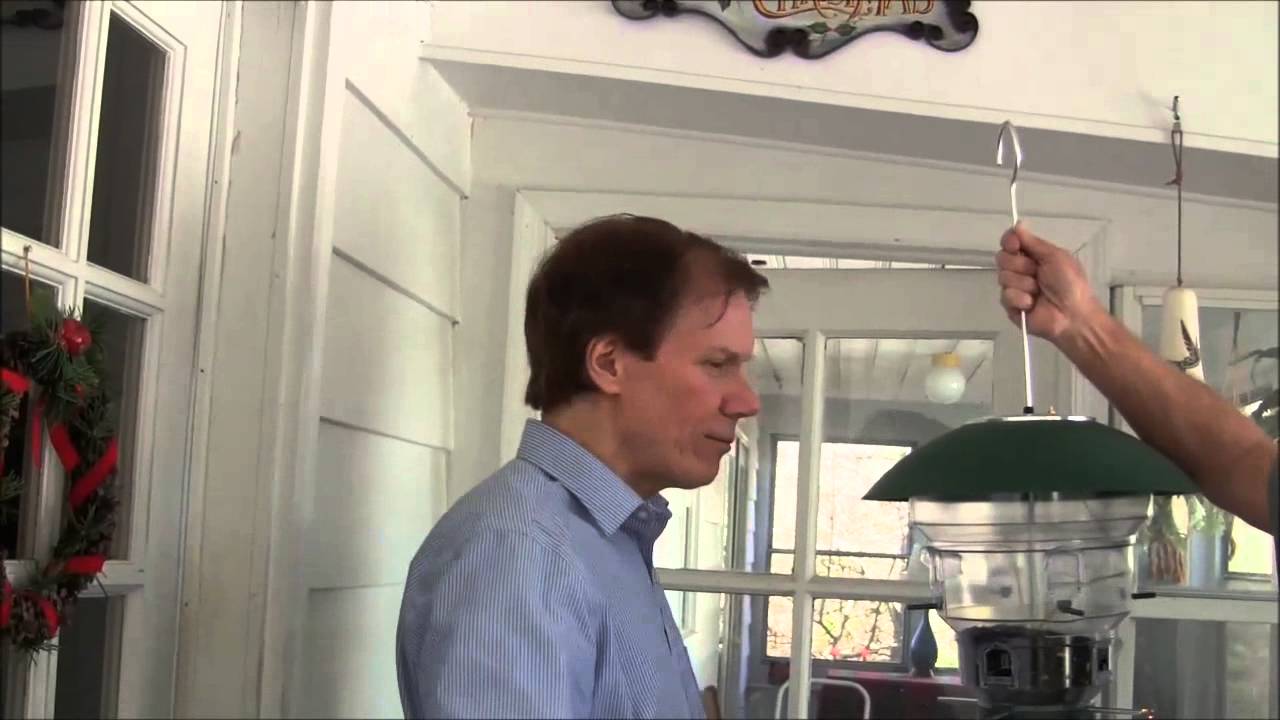 Which one will you buy?
Which products to choose can be based on your needs and preference. For those who like Cardinals, Brome 1057 is the most appropriate choice, with a design that has been adapted to Cardinal habits when eating. Who try to find robust bird feeder can choose Woodlink 7536, which is made of metal all over the body. A low price becomes a point to consider for Perky-Pet with a bright red color design. While Wild Bill's is suitable for you, who look for bird feeder product with a shocked electric system.